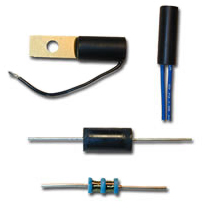 Riedon can supply wire-wound, thick film, and metal film power resistors in configurations and ratings to fit many resistance heater applications. Prices are often more economical than "standard" heaters.
Riedon's power resistors offer significant features for specialty heater applications:
Small Footprint
Watt-Density ratings to 100 W/inch2
Fast Response Time
Rugged and Reliable
Browse our website . If you don't see what you need, contact us. We can modify these products – or manufacture a custom solution for your special application.