More custom designed resistor capabilities that we offer to our valued customers.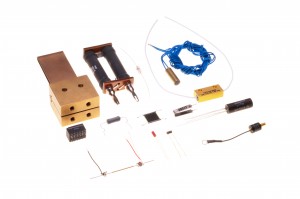 Custom Package
Special "banana plug" resistor used to configure a test board by easily adding or removing the resistor.
Metal Element
Showing various form shapes for the MSR low-ohm metal element product line.
Joule Rated
Special joule–rated part with custom soldered, flexible lead terminations.  Joule-rated parts are designed survival under high current or voltage spike applications (lightning strike, motor start-up etc.).
Heater Chip
Custom thick film heater chip with special surface mount leads.  Applications in the severe-environment security camera industry to prevent fogging of the camera optics package.
Fuse Resistors
Special

fusible

resistor with tight fusing characteristics, clear plastic housing and complete mil/aero qualification documentation for US missile project.
Four Leads
Duel precision resistor package with four leads.