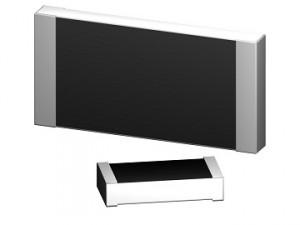 High Ohm Resistors In A Small Package Size When trying to analyze very low electronic signals, a stable, high ohm resistor is required. With thick film technology, very high values (up to 10 Tera-Ohms!) can be achieved in smaller and smaller package sizes. With thick films, the conduction mechanism is a combination of metallic and semiconductor conductivity and a mixture of metal and glass/organic binders is screen-printed onto a ceramic base and then fired at 850°C. A precise mixture of these particles will yield a resistor that is not only very stable, but also has quite low temperature coefficient (TCR) and voltage coefficient (VCR) ratings.
The resistors then utilize laser-cut trimming to make the resistor value as precise as possible, and tolerances down to 0.5% can be achieved, depending on how high the ohmic value is.
Check out Riedon's HVC Series with resistance ranges from 10 Mohm to 1 Tohm in package sizes as low as 0402. Click here.
Or for higher-temperature and/or higher voltage applications, our HVS series is also available with an operating temperature up to 300°C. Click here.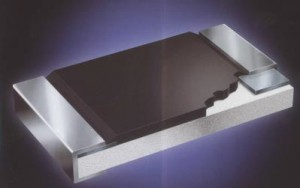 Riedon has designed chip resistors for high-temperature operation with resistance values up to 10TΩ.
The maximum continuous working temperature of standard components with nickel/tin terminals is usually specified as +155˚C (tin has a peak temperature of 230˚C while nickel is limited to 160˚C).
By using superior materials, and combining an inner terminal of silver/palladium with a wrap-around of platinum/silver, Riedon is able to offer chip resistors that can work in applications up to 300˚C.
This termination technology is suitable for silver epoxy attachment, which provides the reliability and high temperature performance essential for the temperature probes and pressure monitoring devices used in oil and gas exploration.
Further, by avoiding nickel, these chip resistors are completely non-­magnetic and can be used in the presence of strong magnetic fields, such as medical CT and MRI scanners.
The CHR series of non-magnetic chip resistors provides resistance values from 1Ω to 10MΩ with power ratings from 0.05W to 1.5W, depending on package size (from 0402 to 4020).
The HVS series of higher value resistors runs from 100kΩ to 10Tohm, with operation up to 6,000V.
Call our reps in the area. Here is the list of representatives. Click on each one to go to their website: