Thanks for visiting our website, you also may be interested in our e-commerce site,
shunts.com
where you may find DC current shunts in stock to purchase.
Temperature Sensing Wirewound Resistors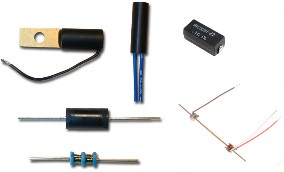 Standard TCRs available to 6000ppm/K

Engineering assistance available for application support

Custom TCRs developed for special applications

Customized packages available

Short Lead Times on samples and stock TCRs
Many of Riedon's Wirewound products are available in special high Temperature Coefficients of Resis- tance (TCR) ideal for use in temperature sensing applications. Special TCRs are most commonly used with our precision wirewound resistors series (100, SM, PC) but may also be used in our power series (UT, UB) and our surface mount series (S). Custom packages can also be designed to meet your specifi- cations. Please inquire directly if you have a unique application and our applications engineering depart- ment will assist you from start to finish.
Wirewound sensors provide for the most accurate temperature measurements over a wide range of tem- peratures and with the most flexibility as to TCR selected.
We provide high temperature elements with all-welded construction for use in high stress and vibration applications. Wirewound sensors provide users with the stability, uniformity, and repeatability needed for critical performance criteria.
Common Applications:
HVAC controls, Industrial Temp Probes, Aerospace Sensors, Compensation Resistor, Process Control
The table below displays commonly used wires in high TCR applications. Since Riedon stocks these wires, lead times are short when selecting a high TCR wire. Selection of TCR is not limited to what is listed in the table - other TCRs are attainable by using different manufacturing techniques. Please inquire directly if you have a TCR requirement that is not listed in the table.
Common High TCR Wires

Wire

Temperature Range (0°C - 100°C)1

Rediseal

3500 ± 300

Platinum

3850 ± 300

Copper

3900 ± 300

BALCO

4400 ± 300

Nickel-5000

5000 ± 300

Nickel-6000

6000 ± 300
1Reference Temperature at 25°C
Ordering Information
Part Number - Resistance - Tolerance - TCR ( If not standard ) Example: 101 1K 1% 4400ppm



Riedon Inc. 300 Cypress Avenue Alhambra CA 91801 (626) 284-9901 (626) 284-1704
05/11