Our production facilities will be shut down Friday, December 24th, 2021 returning Monday, January 3rd, 2022. Please plan accordingly, average lead-time is 10 week, Call 626-284-9901 for quote.
Introduction to our Resistors
Riedon has served industrial, commercial, aerospace and military markets with high quality and reliable resistors since 1960. We offer an exceptionally broad range of advanced components that used metal foil, metal film, wire wound, and thick film elements. With Riedon, you can choose the best technology for your critical resistor applications.
Instrument-quality precision resistors accurate to ±0.005%
Power resistors rated to 250 watts or higher
High temperature, high voltage resistors, RTD sensors and resistive heaters
Custom designs for your special applications
Riedon has created a business model that serves customers efficiently regardless of the size of their requirements.
We provide personalized technical support and problem solving
Our flexible manufacturing systems enable us to serve small prototype orders or major production quantities with the same support and enthusiasm.
Our advanced designs are available in a variety of options: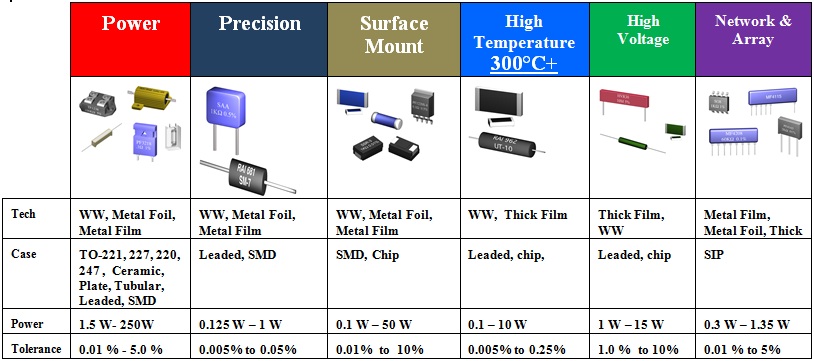 Custom Designed Resistors

Sample of Custom Resistors: Temp Sensing, High Pulse , variety of Sizes, custom case style, custom wiring, High temperature

Applications: Instrumentation, Solar/Wind Inverters, Security Cameras, Medical , Flow meter, Industrial Ovens, Heaters on film on Steel